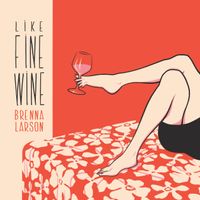 With LIKE FINE WINE, Brenna Larson uncorks her debut album of acoustic originals after years of fermentation and procrastination. Brenna's rich vocals and finger-picking guitar skills combine with her warmth and wit to convey a unique perspective on life as a woman of a certain age. 
LIKE FINE WINE features heartfelt story songs such as the title track, "Welfare Train," and "Cheshire Cat Moon, along with tongue-in-cheek favorites like "Gray Hair Blues," "Procrastination," and "Buy More Shoes." The album includes a diversity of musical styles ranging from classic folk to blues ("Tangled") and a bit of country ("He Loved Whiskey"). Her songs create an authentic connection that inspires, stirs the emotions, and makes the listener laugh along the way. Anyone who has ever lived in a small town can relate to "This Old Town," a song that brings to life the magic of living in a close-knit, rural community. 
Back-up musicians on the album include legendary folksinger, Claudia Schmidt, and multi-instrumentalist, Jim Henry. This original blend was bottled by Mark Thayer in his Signature Sounds recording studio, hidden away in a magical barn in the Connecticut woods.